Last Minute Holiday Shopping for Companies
How to ensure your company's holiday shopping is a success
The holidays are a time of family, friends, and giving. They are a time to celebrate the joy in life, and to embrace the magic of the season.
In the business world, the holidays are a time to show your appreciation to your employees and clients. It's a time to slow down and acknowledge the past year's successes and the people who made them happen.
But the time to do this is just around the corner, and many companies are still trying to get their holiday shopping list together. The window for planning, shopping and giving gifts in time for the holidays is closing quickly. But with a little bit of planning, you can ensure that you're ready.
Here's what you need to know to make your company's holiday shopping a success.
What is your deadline for holiday shopping?
You still have time, but not a lot! So, it's important to keep in mind the turn-around-time for the items you're interested in giving.
There is a process for ordering decorated items. This may seem obvious, but in these days of next-day-shipping, it's easy to forget that when ordering personalized items, you're working on a different timeline.
It's not complicated, but there are steps involved in getting you your order.
Step 1 Choosing your item
Here's where we need to know your budget, the number of items you need, and the date by when you need the order. Then we come up with items for you to choose. If you need to run your decision by multiple people, make sure to communicate that time is of the essence.
Step 2 Gathering Art
We need artwork for your design and any guidelines for usage. Most brands have rules for how a logo can and cannot be used. This may include the font for letters or the color of the logo, among other things.
Typically, a certain type of digital file is needed for the artwork, like Vector outlined in EPS file format. Most larger organizations will have an art department or person who knows what this means.
If you don't have artwork in a usable file, we can have it made for you.
Step 3 Proofing Art
Once we have submitted your order to the vendor, we wait for a pre-production proof that the vendor provides. This is a visual representation of your artwork on the item you ordered. Its main purpose is to show the size and placement of the art.  Generally, this takes 1-2 business days. Once you have the proof, you will review it to ensure that the artwork matches your expectations and that there are not any errors that need to be corrected.
Step 4 Production
After we have approved the proof, the order can go into production. Every vendor has their own production schedule and timeline, which can change from season to season depending on how busy they are.
Typically, production time for hard goods is 5-10 business days. For decorated apparel it's 2-3 weeks. Therefore, it's important to move quickly through the preceding steps, so you leave enough time for production.
Step 5 Delivery
Your order is complete! Now you need to factor in the transit time from vendor to your end location. We are in Minnesota, but the vendors we use are all around the country. So, if you are located here in Minnesota but your item is coming from California, you're looking at a 3–4-day transit time if you're shipping standard ground (cheapest option). Of course, we can expedite shipping, but it can get costly.
You still have time to order decorated and personalized items, but if you're dead set on something that won't make it in time for the holidays, you can hold off on the gift-giving until after the new year.
It can be a lot to think about. Good thing it's our job and not yours to take you through these steps!
How we can help
Simply put, we guide you through the steps. We know what's available and how long it will take to get it.  We will make sure that you have what is needed for your order, and that it's completed on time. It's our job to make sure you are satisfied and confident about your purchase.
Something for every budget
Everyone has a budget. Whether you are purchasing small gifts for co-workers or a huge gift basket for all your employees, you want to make sure that you get your money's worth. Here are just a few ideas out of the many items we offer.
Boxanne
If you're looking to spend less, but still make a lasting impression, a Bluetooth wireless speaker is a popular and practical option. The Boxanne speaker can be decorated on both sides.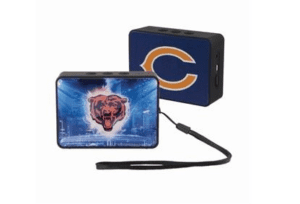 Urban Peak Giftset
A cooler bag is a great option in the mid-price range. With dozens to choose from, the Urban Peak Giftset gives you a lot for your money.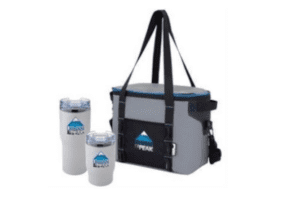 Marble Cutting Board Charcuterie Set
Chacuterie boards are everywhere! This beautiful marble cutting board will make a lasting impression.
Everything Nice Snowflake Tower
You can't go wrong with chocolate and this set has the WOW factor!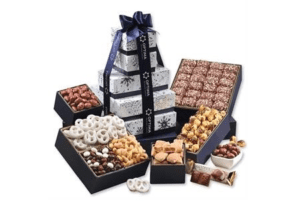 These are just a handful of ideas. One of the most fun parts of our job is working with you to find items that fit your vision and unique situation.
So, you now have a quick guide to pulling together a truly great holiday gift-giving experience.  No matter how crazy the holiday season may seem, with a little bit of planning, we can make it a success!